Workspace in Rockefeller Center
Office space when you need it, where you want it.
Looking for prime office space in NYC? Look no further than 45 Rockefeller Plaza and 630 Fifth Avenue - two iconic addresses at the heart of Midtown Manhattan. Both locations boast a rich history of business prestige that dates back to the 1933 opening of Rockefeller Center. Plus, you'll have easy access to the city's best restaurants, hotels, and transportation. And as part of the Rockefeller Center community, you'll enjoy exclusive perks like access to a penthouse clubroom and rooftop garden. Don't miss out on this opportunity to elevate your business in one of NYC's most coveted locations.
New York City Landmark - 1985
Get 50% Off Your First Meeting
Use promo code ROCK50 when making your first reservation.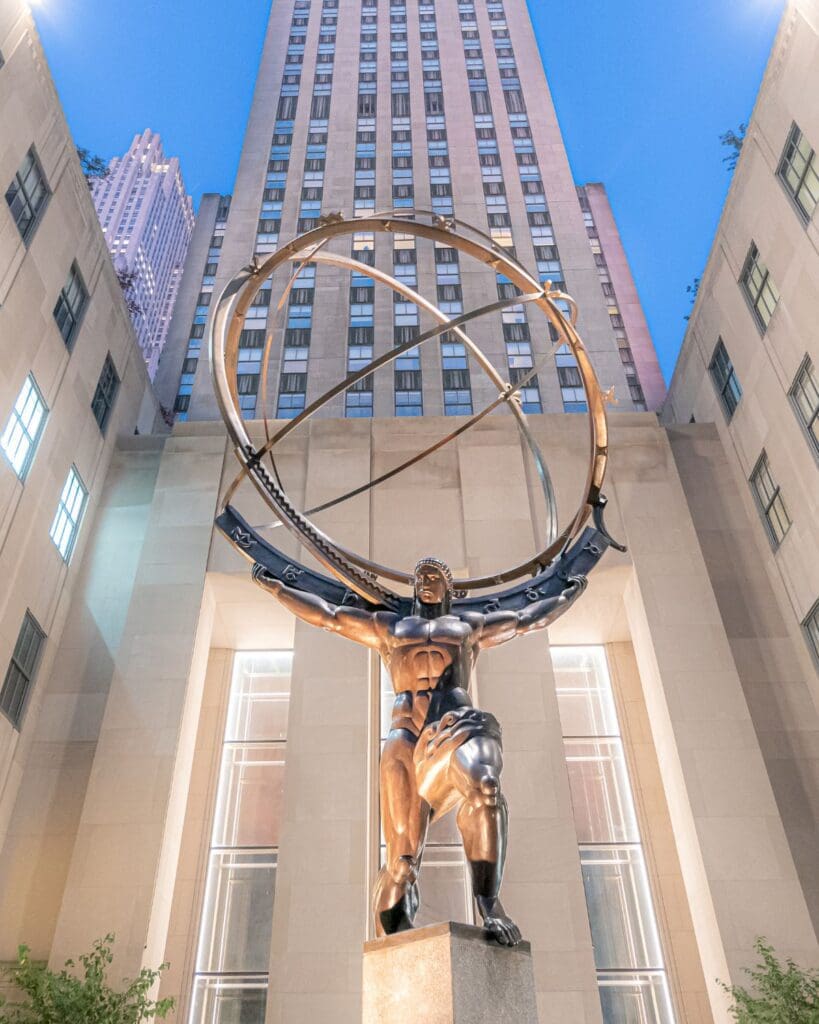 New York, NY 10111
212.899.5400
Looking for a prime business location in New York City's iconic Rockefeller Center? Look no further than our shared office space at 45 Rockefeller Plaza. Since 1994, Workspace by Rockefeller Group has provided top-tier private offices, virtual offices, and meeting rooms to the world's most discerning professionals. And best of all, our services come with cost-effective rates and flexible terms, so you can enjoy the ultimate in flexibility and convenience. Join our exclusive community at Workspace by Rockefeller Group today.
New York, NY 10111
212.899.5400
Experience true power at our shared workspace on 630 Fifth Avenue, located at the heart of New York City's iconic Rockefeller Center. Elevate your reputation with the best address, unparalleled professional services, and convenient terms. Since 1994, Workspace by Rockefeller Group has been dedicated to providing a private and attentive environment that meets your needs. Our private office spaces, virtual offices, and meeting rooms offer competitive rates and flexible terms, so you can focus on achieving your goals.
One Membership - Nationwide Workspace
With your Workspace membership, you have free access to more than 25 nationwide locations.
Take your work to the next level with Workspace by Rockefeller Group, whose membership provides you with exclusive access to the Rockefeller Center Tenant Program. Imagine having the freedom to work remotely from any of the amazing locations included in this program, including several renowned spots in the bustling city of New York. With Workspace by Rockefeller Group, remote working has never been more accessible or enjoyable. You can work from the comfort of your own home or venture out to new and exciting destinations nationwide. The possibilities are endless with your membership, opening up a world of opportunities for your professional endeavors. Join us now and discover the flexibility and convenience that await!
The Rockefeller Center Tenant Program
Rockefeller Center continues to redefine the definition of a work-life balance through their tenant program. Here, you will benefit from one of the most unique and diverse assortment of amenities that will be found in any office campus.  With your membership at Workspace by Rockefeller Group, you have full access to all of their space and programs.  Discover all the ways you can benefit from this free program.
*Premium virtual office or office space members for access
Office Space and Meeting Rooms
Midtown Manhattan, NY 10111
Midtown Manhattan is considered to be the hub of the business world. Being in the heart of this world renowned location has never been so easy. Our shared office space will bring instant recognition to anyones reputation. Learn how easy it is to elevate your image with beautifully furnished office space and meeting rooms for any length of time.
Who We Are...
Our name reflects our responsiveness to the wide range of customer requirements today,  Our continued enhancement of services, and the commitment to quality instilled by our connection to the Rockefeller Group brand that we have strived to uphold with excellence and innovation since 1928 has made us an industry leader in NYC..
Our mission is to combine one of the most accessible, prestigious and amenity-rich addresses in New York City, with private offices and flexible workspaces backed by a highly experienced support team. Our well-appointed modern workspaces and conference rooms are supported by a dedicated, best in class on-site administrative team and one of the most reliable technology platforms in the flexible office-space sector. Contact us any time to learn more about the solutions we can provide on an immediate, short- or long-term basis, backed by 25 years of excellence in New York City.
Contact us today to learn more about our New York City office space at Rockefeller Center located at 45 Rockefeller Plaza & 630 Fifth Avenue.